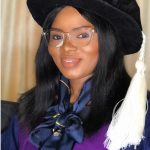 Dr. Titilayo Kayode-Alabi is a Paediatrician practicing in Abuja, Nigeria. Titilayo considers herself as a lover of children, and this love is expressed in all her visions.
She is the founder of Rootts Childcare, a platform that uses technology and innovation to bring healthcare to families all in the comfort of their homes. However, she hopes that she may impact children in all aspects of their lives- health-wise, spiritually, and morally.
She is happily married to her heartthrob, Dr. Kayode Alabi.
Books Of Titilayo Kayode-Alabi