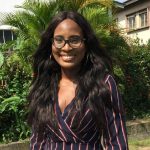 Oluwatoyin Odunuyi is a self-published author of many books which are distributed on various platforms like Wattpad, Bambooks, Selar, Okadabooks and more.
Toyin also owns a blog "An inclusive world" that is focused on autism spectrum disorders and also her experience with having an autistic brother.
She is the author of "yours, always, the highs and lows of having an autistic sibling and much more"
One of Toyin's favourite things to do is to make up fake scenarios before she sleeps.
This hopeless romantic is also extremely obsessed with Tony Stark and Lucious Lyon. She is the co-founder of @naijagirlswhowrite
Books Of Oluwatoyin Odunuyi