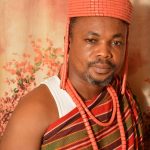 Mackson Akhetuamen is a prolific writer, creative storyteller, and savvy book lover, who hails from Utako, Edo State.
The Power of African Customs & Tradition is a fictional work birth out of the motivation and deep concern for issues related to Love, Happiness, Customs, and Tradition.
Mackson is a consistent book writer having authored other bestselling titles such as Blood Bath in the Jungle, Evil against Evil, The Mystery and War of the Generals.
Mackson Akhetuamen is happily married to Juliet, and they are blessed with kids.
Books Of Mackson Akhetuamen