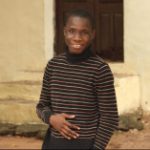 Joshua, Joel Ohifeme is a Child Evangelist with Children Evangelism Ministry Int'l. His love for young ones and quest to fulfill purpose had made him give all to the total child development and teen's transformation for almost a decade.
He has served and still serves in various capacities of raising youths who are aimed at actualizing their purpose for living.
He serves as an Epic Content Writer with various blogs where he puts out positive vibes with a watchword of Giving Life through Writing.
He is a graduate of the Federal University of Agriculture, Abeokuta, Ogun State Nigeria, where he studied Pure and Applied Physics.
Books Of Joshua Joel Ohifeme