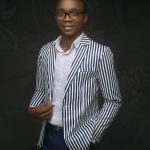 Inibehe Ime Okon, popularly known as Dr Brainy, is a prolific writer, clinical researcher, personal growth and development expert and a child of God saved by God's grace. His sole purpose in life is to help as many people as possible by connecting them to God and making them have faith in Him. Dr Brainy is passionate about seeing believers come into the kingdom of Christ Jesus.
He has written several life-changing, soul-uplifting articles to help people find their purposes and realize their dreams. When he is not very busy, he holds both online and offline sessions to enlighten the world. He is a member of International Federation of Medical Students' Association (IFMSA), a member of Nigerian Association of Neurologists (NAN), and he also holds a junior position in the World Federation of Neurosurgeons Association.
His passion to touch lives is what motivates him to pursue a career in paediatric neurosurgery.
Books Of Inibehe Ime Okon