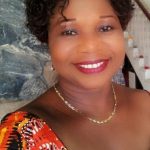 GRACE BOSE THEOPHILLUS is a daughter of the Most High God, created in His own Image and fashioned for His divine purpose. The Almighty God has taken her through fire and water but brought her out to rich fulfilment. (Psalm 66:12).
A Nigerian by birth, British Citizen by Naturalization. She has been in many professions and careers in her life, i.e. Radio and Television presenter, Business, Hospitality, to say a few.
Out of all the professions she has been in all her life, being a primary school teacher in Nigeria and England has been the height of her career.
Making a positive impact in the lives of her class children has been a great privilege. Helping to influence them academically, socially and in every area of their lives has been rewarding.
Through her class, she has also learned to be humble, loving and forgiving regardless of race, colour, and social class. Life is simple – don't complicate it.
Being a mother to a wonderful spirit-filled, God-fearing and loving son has been a great motivation to Grace. Her beautiful grandchildren, which makes life worth living, are a source of inspiration to her.
Grace is richly blessed and highly favoured by God.
Books Of Grace Bose Theophillus