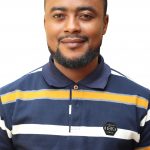 E.T.H...Aina is a storyteller, poet and teacher. He has published two books, Obinze the Fearless Boy (2015) and Heart to Heart (2019)). His writing has appeared widely in Poetry Portion, Visual Verse, and others.
Writing gives him the freedom to create a world where he sets the rules, where the characters act the way he wants them to, a world where everything is exactly how he wants it to be and he knows that he is the one who controls everything.
When he is not writing or teaching, E.T.H...Aina spends most of his time reading, cooking watery noodles and surfing the internet for derogatory words. An admitted sports fanatic, he feeds his addiction to football by watching Real Madrid games on Saturday or Sunday evenings.