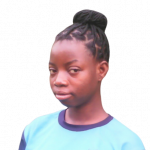 Emmanuel Praise N. is the daughter of the proprietors of Christ Group of Schools, Apomu, Osun State, a teacher in her own right, she is very passionate about eradicating failure and ensuring success.
She has been teaching for nearly five years and is currently a tutor at Highflyers Tutors, Obafemi Awolowo University, Ile Ife where she also runs her bachelor in law degree. She loves speaking and motivating others.
Books Of Emmanuel Praise N.