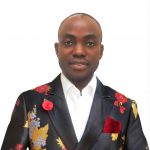 Chinedu J. Nwagwu, is a servant of God who has been serving God and humanity in various capacities from his early school days, as early as primary school to university, in his local church and various organizations. He is an inspirational speaker passionate about helping his generation and coming generations with witty ideas in education, career, relationship, godliness, etc. He is the convener and copyright owner of Discovery 4 Youths; a seminar and youth empowerment series.
Chinedu holds B.Sc. and M.Sc. in Business Administration from Lagos State University, Ojo and PhD. in view at Highstone International University. He currently lectures in the faculty of management sciences at NIPEM/AUB. He is a Google scholar who authored and published six different articles; being lead author in three (3) and co-authored another three in international and local academic journals. He has presented several seminar papers at international conferences of several universities.
He is happily married to beautiful Sopuruchi as a wife and blessed with pretty Elohor Chianyibusonma as a daughter.
Books Of Chinedu J. Nwagwu