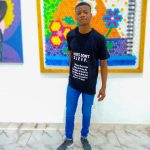 Ayoade Olamide, popularly called Penbleeds, is a young writer from Nigeria, content creator, an undergraduate of Olabisi Onabanjo University (Ogun State) studying Mass Communication.
He is 1/4 of Next Generational Poets (NGP). Second place winner of BKPW Monthly contest (October Edition), First Runner up at 2020/2021 "Poetry in Motion" on-the-spot tournament & he's a multiple winner of the Poetic Litany monthly contest.
His works have appeared/forthcoming in the Academy of the Heart and Mind, Ariel Chart, Write the World, Poetry in Motion, WattNigeria & elsewhere.
"Poets Don't Sleep" is his first published book.