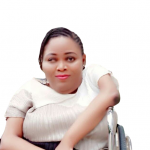 Abiose Falade is a disabilities advocate. She speaks, writes and facilitates a better standard of living for persons living with disabilities. She believes that they should be seen and heard as persons and not as their disabilities, believing that they have the same rights and responsibilities as people without disabilities.
Summarily, a disability should not stop anyone from achieving their dreams and goals.
She is a co-founder of Angel Wings, a Non-Profit organization set up to provide education, sensitization, motivation, and empowerment for people living with disabilities in Africa.
She is a graduate of mass communication and media technology from the University of Lead City in Ibadan.
She can be reached via email: bfalade3@gmail.com